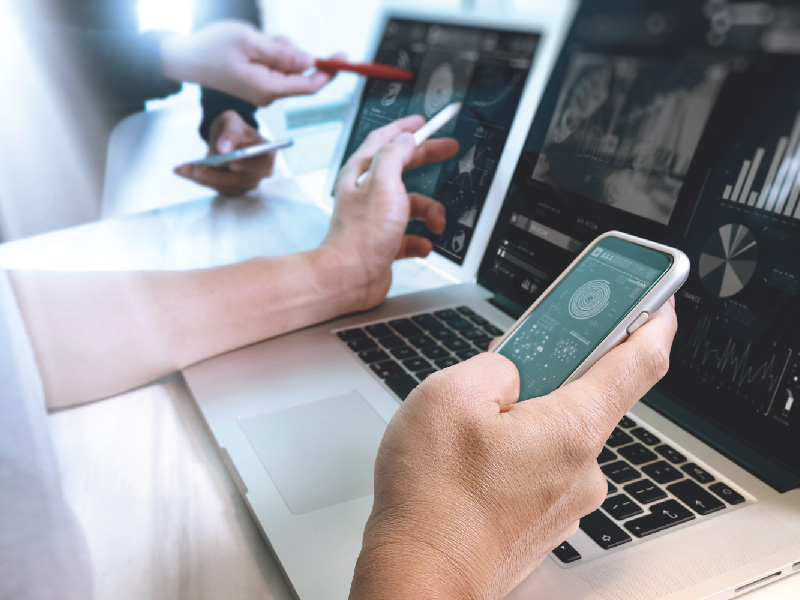 Rapid developments in the digital age have seen the rise in the need for creating mobile apps for every service available. The mobile application industry is said to be one of the fastest growing industries of late.
This explosion in demand for apps, for both business and personal use, has in turn given birth to the need for ensuring the quality of mobile apps being produced, therefore, resulting in niche areas to be aimed at while conducting Mobile Testing.
Let's look at some of the trends that have emerged in Mobile App Testing, due to various factors, in the recent years:
- Trends that have emerged due to innovation in technology
1. AI & ML Integrated Testing
Artificial Intelligence and Machine Learning has revolutionized every industry today, including the Mobile App Testing Industry. AI & ML have boosted testing speeds into multiples. With the introduction of automated test cases and log analytics, repetitive tasks have been completely eliminated from the picture.
2. Scriptless Test Automation
Scriptless Testing is an innovative way of testing that involves the usage of automated testing tools, this will replace the need for manually written scripts. The automated testing tool will record the actions of a manual tester and replicate the same for future testing purposes, popularly known in the industry as record & playback.
3. IOT Oriented Testing
As wearables and other IOT gadgets are becoming increasingly popular among smartphone users today, the need for mobile testing for supporting these gadgets have also seen a rise in the industry. IOT testing focuses mainly on checking privacy issues, as data breaches through smart devices such as smart TV and Smart Watches have increased to a great extent. This type of testing is mainly done through use of real devices since emulators or simulators, as they are yet to cover the full extent of IOT devices.

- Trends that have emerged due to rise in new methodologies of testing
1. Continuous Testing
A very popular trend, due to it's high efficiency, Continuous Testing is a type of Mobile Testing that takes place at every stage of the mobile app development life cycle and not just at the end of it. A large number of businesses have turned towards continuous testing methodologies as it is ideal for faster integrations and provides more room for improvement. Business leaders have understood the importance of testing on the go by adopting continuous testing methodologies like Agile & DevOps as it guarantees greater quality at a faster rate of time.
2. Open-Source Automated Testing
Registered full-stack automation tools were proving to be too costly and rigid for a business, hence, it opened up a space for Open-Source Automation tools that enable a flexible way of testing a variety of mobile apps, native or hybrid. A number of open-source tools provide code libraries for multiple programming languages that are customizable to fit any technological area.
3. Cloud-Based Mobile App Testing
As workspaces have become increasingly expensive and troublesome for many businesses, the rise of cloud offices have become more prominent in this day & age. It's cost saving, since it does not require any purchases of new devices. This aspect makes it ideal for businesses today, hence, it's in high demand.
This method of Mobile Testing enables the testers to work from an array of locations, eliminating logistical challenges. Moreover, it enables them to conduct Mobile Testing in customised environments, with access to real-time devices that will be connected to the network.
- Trends that have emerged due to birth of new industries
1. M-commerce App Testing
Mobile Commerce deals with anything related to online retail, money transfers, mobile banking, in-app payments and many more. There are reports stating that m-commerce alone has contributed to approximately 50% of entire e-commerce sales in recent times. Looking at this boom, many businesses have opted for the m-commerce strategy, resulting in the need for app testing in this particular field. Overall performance, user-experience and security should be the key parameters here as lapses in privacy can result in severe consequences.
Conclusion
There have been quite a few trends that have emerged in the last five years due to the high rate at which new technologies are being introduced into the industry. Innovation is not only observed on the technology front bit also on the ways at which companies are looking at conducting their process of Mobile Testing.
Out of which, Artificial Intelligence and Continuous Cloud Testing surely stand out as the most beneficial trends that have emerged in the recent past, and are touted to be game-changers for now and the years to come, in their respective areas.